Announcements
The Berowra Rotary Fathers Day Spring Plant Sale was held on Saturday 1 September 2018 @ Hunt Reserve and we thank all our suppliers, helpers and most importantly our generous customers!

Raffle Results
1st Prize: Purple ticket C69. Anne Conway, Mt. Colah
2nd Prize: Purple ticket C64. Chris Upton, Berowra
3rd Prize: Purple ticket C20. Robyn Rottinger, Berowra

Special thanks to all the supporters who helped Rotary help others.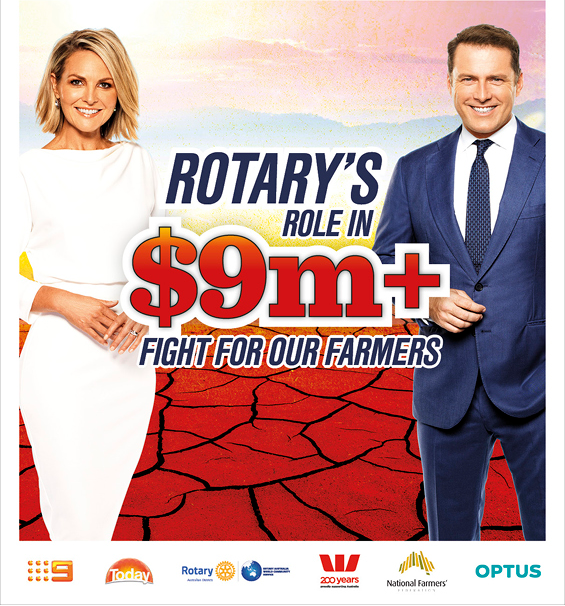 Drought Relief
"Channel Nine has joined forces with Australian Rotarians and the National Farmers' Federation to raise funds for Aussie farmers facing the worst drought in living memory. ........More than $9million has been raised, with the figure still rising. The funds will be distributed to farmers in need by Australian Rotary clubs and districts, in conjunction with the National Farmers' Federation." Rotary Down Under, Issue 609 September 2018 page 16
Look for us on Facebook: Rotary Club of Berowra
The Directors of the Club:
President: Peggy Sandera
President - Elect: Trevor Bailey
Treasurer: Jeanette Bakker
Administration/Secretary: Trevor Bailey
Projects: Jan Childs
Vocational: Gil Stokes
Public Relations and Membership:Tom Borg
Bulletin Editor: Tom Borg
Foundation: Richard Moore
Deputy Foundation: Jean-Philippe de Jong
Immediate Past Presidents: Tom Borg, Richard Moore,Trevor Bailey

Webmasters: Hugh Thomas and Peggy Sanders
FaceBook Managers: Jennah Bakker and Peggy Sanders