Announcements
Saturday 31 August 2019: Fathers Day Spring Plant Sale. Thank you to all our supporters and helpers.
Raffle Results
Special thanks to the large number of people who ignored the rain showers on Saturday 31 August to take advantage of the quality plants for sale, buy a sausage sandwich and raffle tickets.
Congratulations to the winners:
1st Prize: Yellow ticket D87 Karume Azalea "Kirin" Marilyn Roberts, Mt. Colah
2nd Prize: Purple ticket D31 Azalea Indica "Happy Days" Ian Cameron, Rotary Wahroonga
3rd Prize: Purple ticket D58 Lavender Sue Owen, Rotary Wahroonga
4th Prize: Yellow ticket D93 Selection of vegetable seedlings Carolyn Mosey, Mt. Colah
The large specimen azaleas were donated by Valley View Nursery.
The wonderful support of our friends and the local community helps Rotary help others.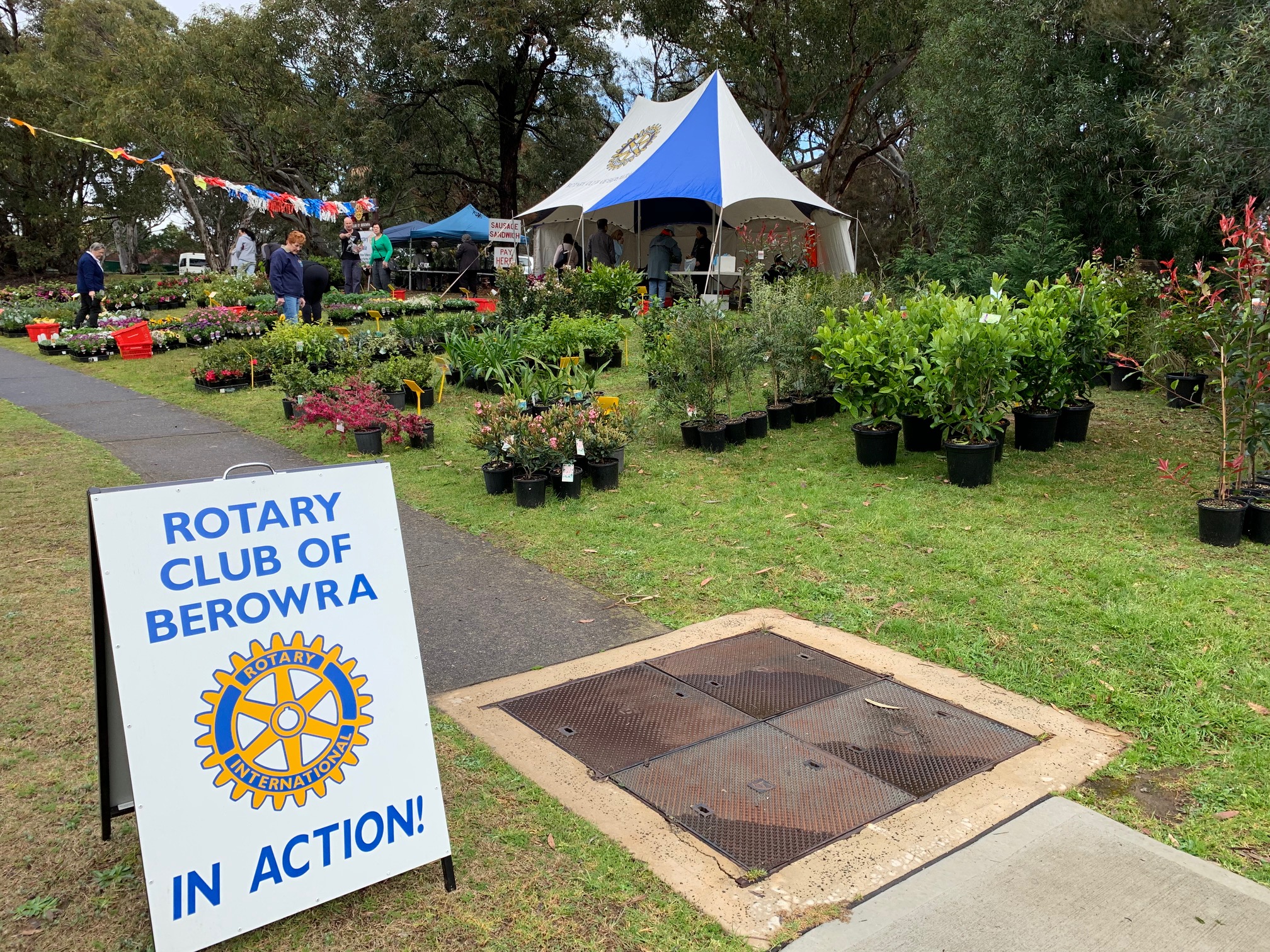 Shamida Bright Vision, Ethiopia


Shamida Bright Vision is a home for disadvantaged children and marginalised women located in the capital of Ethiopia, Addiis Ababa, founded by a local from Berowra Heights, Karen Kendall, who now resides permanently in Ethiopia. Karen grew up in Berowra Heights, attended Wideview Public School, and her mother, Mary Kendall, and two sisters, Kirsten Butts and Kathy Kendall, still live here in Berowra.
Shamida Bright Vision is a registered project with Rotary Australia World Community Service (RAWCS) sponsored by the Rotary Club of Berowra.
If you would like to know more about Shamioda or make a donation to the assist Karen in her work, please contact Kathy Kendall on 0413 056 103 or kathy@shamidaethiopia.com or visit the Shamida website: www.shamidaethiopia.com
------------------------------------------------------------------
Do you want to give back to the community and make a difference in the world
– then JOIN ROTARY NOW!
Rotary is an international membership organisation of men and women who share a passion and commitment to enhancing communities and changing lives locally, nationally and internationally.
Rotary makes it easy to get involved and start making a difference today.
JOIN ROTARY RIGHT HERE IN BEROWRA
WHY?
connect with the community
be part of the good in the world
expand your horizons
use your skills and develop new skills
meet new people
have fun


Rotary Berowra is looking for YOU – we welcome YOU and your expertise and passion
Find out more – Contact Peggy Sanders 0413481854 or Jan Childs 9456 1482
Look for us on Facebook: Rotary Club of Berowra
DIRECTORS 2019—2020
President: Trevor Bailey 0400 999 226
Secretary: Kathy Kendall
Club Administration: Rich Moore 0412 681 548
Treasurer: Jeanette Bakker
Immediate Past President: Peggy Sanders

Directors:
Community Service: Jan Childs
International: Mary Kendall
Youth: Tom Borg
Vocational: Gil Stokes
Foundation: Rich Moore
Public Image: Tom Borg
Membership: Peggy Sanders
President-Elect: Vacant

Additional Roles:
Welfare: Jan Childs
Bulletin Editor: Peggy Sanders
Webmasters: Hugh Thomas and Peggy Sanders
Face Book Administrators: Jennah Bakker and Peggy Sanders